Fiery XF
Ultimate colour, quality and control
Proof-grade colour controls and verification mean industry standard compliant colour results — no matter the application or product being produced. 100% EFI-developed colour management using ICC technology, combined with sophisticated iterative spot and process colour optimisation routines deliver superior colour. Its screening algorithms are engineered to maximise both print quality and printer performance, providing ultimate colour, quality and control, in the least amount of time.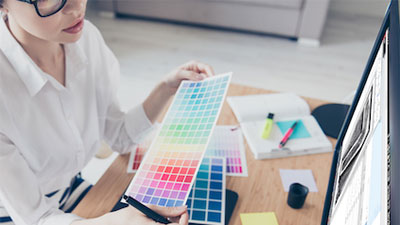 Fiery JobFlow
Prepress workfIow automation for display graphics printing
Don't touch what you can automate
Use Fiery JobFlowTM to build easy-to-use workfIows. Perform essential job processing tasks such as image enhancement and pre-fIighting. Submit files to the proper location or just drag and drop right on to the workfIow. Archive jobs at various processing stages for later reuse. Receive email notifications on the job processing steps that are important to you. Manage, import, and export workfIows for maximum productivity and efficiency. Submit multiple jobs and intelligently route them to other workfIows. Use AI technology* to improve image resolution and DPI for printing images in larger sizes. Allow external and internal reviewers to approve jobs remotely for uninterrupted workfIow. Inspect, troubleshoot, and correct jobs using Enfocus PitStop technology Use advanced scripting to incorporate job processing from third-party applications.
Fiery Prep-it
Print-for-cut preparation software.
Fiery Prep-itTM is a powerful, easy-to-use software solution for the preparation, layout, and automated production of print-for-cut jobs. It can both save you hours of prepress time and dramatically decrease your media usage with its efficient true shape nesting. Fiery Prep-it makes it easy and efficient to prepare print-for-cut jobs. It can connect to many different RIP brands and cut controller solutions — providing a central hub for all your print-to-cut needs. From true shape nesting and cut path editing, through to double-sided printing and automation, it can maximise the use of your existing printing and cutting equipment.